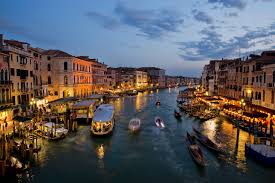 There are a lot of places to visit when in Italy, but the question on most travellers is what they should do once they are there. We have narrowed down some of the things you can do in the country and have a great time in the process.
Enjoy Leonardo's masterpiece for 15 minutes
Most people tend to skip Milan when they visit Italy, but this is the only place where you can see the work of Leonardo da Vinci of "The Last Supper." The tour to see his masterpiece is heavily regulated and you only have 15 minutes to enjoy it. Better make sure that you book your tickets in advance because your visit to Milan is all worth it.
Take a Venice gondola ride at night
Instead of the common day tour to ride a gondola, opt to ride this before or after dinner. Hop on the slow-moving #1 vaporetto at one end and ride it to the other end again. Make sure you have gelato and your special someone as you do this romantic journey.
Hire a tour guide at the Vatican Museums
While you can definitely walk on your own as you go through the Vatican Museums, but for those who love arts or just appreciate history, a guide is your practical option. You will do better to just follow a guide who can point out to you the important pieces and avoid overspending time understanding each piece on your own. As an added bonus, a tour guide can also guide you when you visit St Peter's Basilica.